Information
Anthos Classe A3 Plus International Delivery Unit Dental Chair Dentist Suite
In good condition and full working order
All items included is as per photographs
Supplied new July 2013 to a small dental practice which has now closed
Please click HERE for further information
1 x Anthos Classe A3 Plus International Chair with over the patient delivery unit
1 x Anthos Venus Plus L 6000 - 50000 lux Operating LED Light
1 x Anthos 91104341 Multi Function Foot Controller
1 x Anthos Medical View 19" Widescreen TFT monitor
1 x Anthos Seggiolino S7 Stool
1 x Anthos Seggiolino S8 Stool
Product Overview:
Classe A3 Plus is created here, at the heart of Europe's first dental unit production hub. Designed by the Anthos development team and produced in an ultra-modern facility, the Classe A3 Plus receives the same conscientious attention and is put through the same strict quality tests as all the units in the Anthos range. Based on a construction concept that ensures durability and reliability, Classe A3 Plus provides integrated instruments and systems plus outstanding ergonomics and flexibility: the essence of Anthos values and quality.
ANTHOS QUALITY
Anthos believes that it is the selection of materials according to their specific use that makes 'quality' so much more than a word. Quality of materials to provide strength, lasting cleanliness and solidity - yet also lightness and manageability to provide unmatched performance and style. Above all, every single material is specifically selected to maximise practicality and performance.
ERGONOMICS AND COMFORT
If any one part of the unit can be called 'crucial' - for both dentist and patient - then that part is the patient chair. This, then, is where the quest for quality begins. Structural strength, a shape that does not in any way encumber the operating area, a veritable 'cradle' for the patient and, around it, everything needed to enhance the working comfort of the dentist in terms of both postural ergonomics and visual comfort.
READY FOR WORK – STRAIGHT AWAY
Anthos Classe A has been designed for worldwide use and every dentist with a Classe A is ready for work immediately – and even more so with the Classe A3 Plus, which features simple controls, arranged in a user-friendly way to provide essential, immediate control.
ALL-ROUND SAFETY WITH THE ANTHOS HYGIENE SYSTEM
The dental team can count on the cutting-edge Anthos hygiene system at all times. Classe A3 Plus has been designed to ensure maintenance of hygienic conditions inside both dental unit and workplace: active devices and special design features prevent contamination risks and are in place to ensure secure protection.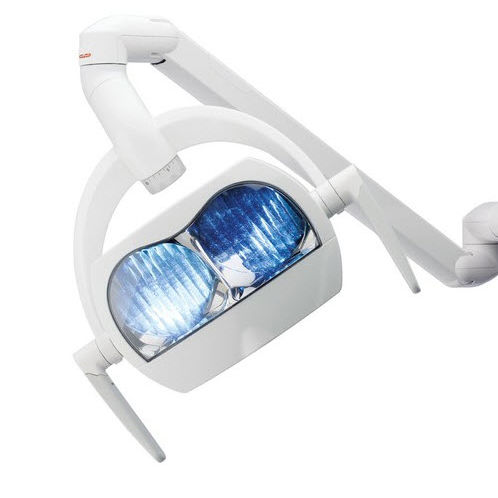 LED dental light


6000 - 50000 lux | VENUS PLUS - L LED
VAT IS NOT PAYABLE BY PURCHASERS OUTSIDE THE European Union (EU) AND by purchasers in the EU (excluding UK) who are VAT registered

-

International Delivery is with UPS
Any Questions? Please call 020 8882 1111 from UK or +44 208882 1111 from outside the UK
---
SL 149339 - Chair
SL 149340 149341- stools
---