Information
Fluke Networks DTX-1800 Cat5 Cat5e Cat6 Digital Cable Analyzer Certifier Tester
In good condition and full working order, with SMART REMOTE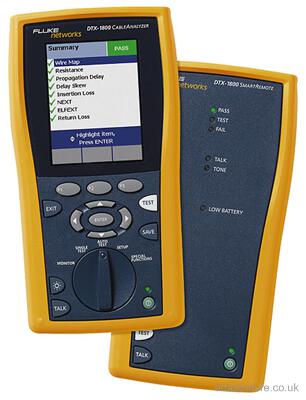 Please click
HERE
for Brochure
Please click
HERE
for data sheet
Included
1 x Fluke Networks DTX-1800 Cable Analyzer
1 x Fluke Networks DTX-1800 Smart Remote
2 x Fluke Networks DTX-PLA001 Universal Permanent Link Adapter
2 x Fluke Networks DTX-CHA002 CAT 6/Class E Channel Adapter (AxTalk) Further information click
HERE
2 x AC power supply
1 x Hard protective case
DTX CableAnalyzer™ Series
Copper certification tester guarantees cabling installations comply with all TIA/ISO standards.
The Fluke DTX-1800 Digital Cable Analyzer Series gives you a complete solution that streamlines every aspect of the certification job - from setup, to record-fast testing and troubleshooting, to reporting results to the customer. All told, the Fluke DTX can save you considerable time and money - up to four hours a day.
The Fluke DTX -1800 performs Cat 5E/6 certification tests in just 12 seconds -in full compliance with industry standards and with superior accuracy. This incredible speed means you can test up to 170 more links in an eight-hour shift.
The Fluke DTX-1800 Cable Analyzer's powerful features, speed, and superior accuracy make your crews more efficient and productive - and you can see the results on the bottom line. With our rental options, you can get all the tests you need completed quicker and more cost efficient than ever.
Features:
Increase productivity from day one. Intuitive interface means your techs spend less time in training and more time testing
Zero to certified in 12 seconds. This unheard-of Cat 6 test speed lets you move from link to link three times faster than with previous testers
Level IV Accuracy. Get the most accurate test results in the shortest possible time
900 MHz frequency range. Prepares you for future applications, such as 10 Gigabit Ethernet, Class F and CATV
Advanced time-saving diagnostics. Pinpoints the location of a failure and is the only tester that suggests corrective action, saving troubleshooting time
Record-fast fiber certification. Certifies a pair of fibers in 12 seconds with DTX single mode
12-hour battery life. Gives you the power to complete any job.
Save time managing results. From setup to reporting, LinkWareTCable Test Management Software's simple user interface and time-saving features increase productivity
Test Standards: TIA/EIA-568B, TIA TSB-95, ISO 11801:2000, EN 50173
Permanent Link Adapter Technology Eliminates False Failures
Commercial patch cords—including Cat 5e/6 and Cat 7 cords—used in Permanent Link testing applications can cause costly false failures by failing a good link and adding unnecessary hours of troubleshooting and repeat testing. The daily wear associated with coiling, uncoiling, and storing cables under rough field conditions causes slow, invisible degradation over time and contributes to Return Loss, which is often the cause of a FAIL.
At Fluke Networks, we put accuracy first. That's why we developed high-performance Permanent Link Adapters instead of using commercial patch cords. Our proprietary technology ensures superior accuracy and stability required for measuring Return Loss, while increasing the accuracy of all other measured test parameters—not just accuracy one time, but accuracy every time— over time.



As you can see in this graph, a commercial Cat 7 SSTP cord has a 10 dB loss after 150 cycles of coiling and uncoiling. This 10 dB degradation causes a good link to fail - and you end up with a false fail. This 10 dB of loss won't occur when you use Fluke Networks' Permanent Link adapter technology - with DTX you get repeatable accuracy you can count on.
PM06 Personality Modules
PM06 is the cabling industry's first centered, shielded test plug. With global industry approval by connectivity vendors, this unique "center plug" certifies link as well as connecting hardware compliance to the Cat 6 standard to achieve an "open" cabling system. Supports all UTP, FTP and ScTP cabling systems.
Centered TIA/ISO plug
Shielded - one global solution
Vendor independent
Snag-free clip
End-user assurance of interoperability
Designed for deep recessed jacks found in Europe
VAT IS NOT PAYABLE BY PURCHASERS OUTSIDE THE European Union (EU) AND by purchasers in the EU (excluding UK) who are VAT registered

-

International Delivery is with UPS
Any Questions? Please call 020 8882 1111 from UK or +44 20 8882 1111 from outside the UK
SL 134357