Information
Grass Valley Indigo AV SD Video I/O Camera Live Broadcast 2D 3D Mixer INDIGO1-SD
In Good Condition And In Full Working Order
Please click HERE for further information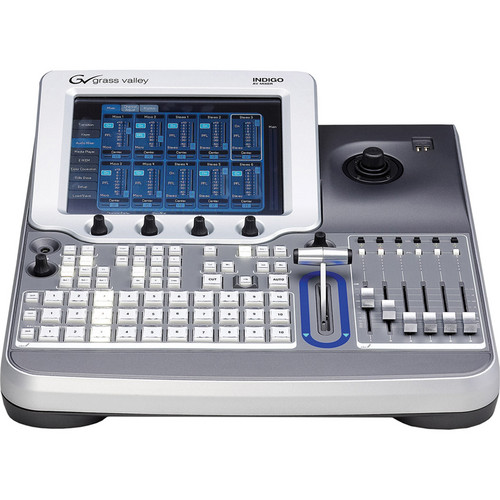 Included:-
1 x
Grass Valley Indigo AV SD Video I/O Camera Live Broadcast 2D 3D Mixer INDIGO1-SD
PRODUCT HIGHLIGHTS
Audio-Video Mixer
Live Event Management
Intuitive Controls
Custom Presets
2D & 3D Transitions
Luminance Chroma & Key Patterns
Advanced Audio Support
Phantom Power for Microphones
The INDIGO-SD Indigo Audio-Video Mixer from Grass Valley is an advanced audio-video mixer designed for use in live-presentation environments. It offers a complete set of tools for controlling multiple analog or digital audio and video sources. Despite its robust tool set and ability to manage complex tasks, this unit has been designed to fit any skill level. Its menu-driven touch-screen interface can access powerful presets to get a new operator up and running in minutes. Presets can also be custom programmed and recalled later for even faster operation.
Numerous 2D and 3D transition effects can be selected and saved with other layout data in the unit's storage banks. It also supports (2) high-resolution and (2) SD luminance chroma or pattern keys. By combining these features with the basic time-line sequencing in the mixer's E-MEM preset storage banks, you can achieve a virtually limitless array of custom effects.
This unit supports (8) stereo audio input channels from digital and balanced or unbalanced analog sources. Each audio channel has a four-band parametric equalizer and may be controlled by a motor-driven fader. The mixer can also provide phantom power for up to (4) microphones. Moreover, it can operate in audio-follow-video mode and automatically fade audio up or down when its associated video source is taken to program. Delay tracking automatically delays audio to coincide with any delays in video to ensure lip synchronization.
Audio-Video Management

Use this unit to process, mix, edit, and otherwise manage audio and video signals in live events and other similar applications.
Controls

An intuitive control interface means that virtually anyone can operate this unit and custom preset functions further simplify its management.
Advanced Audio Support

Numerous audio control and quality features allow you to better manage your audio signals and ensure that audio and video signals work correctly together.
Standards

NTSC/PAL:

50/59.94Hz


HD-SDI:

SMPTE 292M (720p or 1080i) 8-bit YUV


SD-SDI:

SMPTE 272M (525 lines/625 lines) 10-bit YUV


Composite:

(525 lines/625 lines) 10-bit YUV


DVI-I:


640x480 up to 1280x1024 @ 50/60/75Hz
1600x1200 up to 1920x1080p @ 50/60Hz
Inputs

SD VIDEO INPUT




Processes up to (12) external sources selected from the following input connections:


(6) SD-SDI (75 Ohms BNC)
(6) SD-SDI or composite (shared 75 Ohms BNC)
(4) S-video (4-pin mini DIN)
(2) DV25 FireWire (6-pin IEEE 1394)
(2) internal digital sources downscaled from hi-resolution


Embedded audio:

passed and user-defined de-embedding from SD-SDI


Ancillary data:

blanked


Maximum cable length:

984' (300 m) using Belden 1694A type cable
Outputs

SD VIDEO OUTPUT




All output connections are simultaneously active PGM:


(2) composite (75 Ohms BNC)
(1) S-video (4-pin mini DIN)
(2) SD-SDI (75 Ohms BNC)


PVW:


(1) composite (75 Ohms BNC)
(1) S-video (4-pin mini DIN)
(1) SD-SDI (75 Ohms BNC)

AUX
Aux outputs are pairs of SD-SDI and composite connectors:
(3) composite (75 Ohms BNC)
(3) SD-SDI (75 Ohms BNC)

HIGH-RESOLUTION VIDEO OUTPUT
All output connections are simultaneously active. Both PGM and PVW may be scaled to the following resolutions:
800x600 @ 50/60/75Hz
1024x768 @ 50/60/75Hz
1280x720 @ 50/60/75Hz
1280x768 @ 50/60/75Hz
1366x768 @ 50/60/75Hz
1280x1024 @ 50/60Hz
1400x1050 @ 50/60Hz
1920x1080i @ 50/60Hz
PGM:
1 DVI-I
PVW:
1 DVI-I

Power

Line voltage:

100V to 240VAC +/-10% auto-range


Line frequency:

50/60Hz +/-5% power-factor corrected


Power consumption:

maximum 220W


Leakage current:

<2.5mA


USB power:

maximum 0.5A (all devices)
Dimensions (HxWxD)
2.3 to 8.3 x 17.5 x 18.5" (57 to 211 x 444 x 469mm)
Weight
20.9 lbs (9.5kg)
VAT IS NOT PAYABLE BY PURCHASERS OUTSIDE THE European Union (EU) AND by purchasers in the EU (excluding UK) who are VAT registered

-

International Delivery is with UPS
SL 168676